Why buy a Prepaid Travel Sim Card?

Convenience
Relax and enjoy your travel the moment you land. No more running around the airport looking for a sim card.

Value
Say good bye to roaming charges, our 'plug and play' sims are priced competitively. That's one less thing to worry about.

Stay Connected
Whether it is for work or a holiday you can do it anytime and anywhere. Don't forget to post that photo or send that email!
Where are you travelling to?
We love traveling around the world and one day one of our friends just had to buy his sim card at the airport for double the price in town. We thought the price was outrageous and definitely could do better!

So we thought why not use our travel expertise to use and start selling sim cards in Australia to help our fellow travelers. We can guarantee transparency, provide convenience and competitive prices!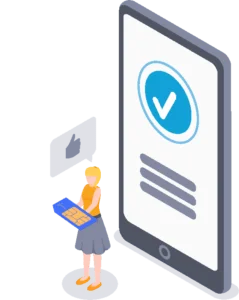 3. Fly and insert your sim card when you land.*
That's it! As easy as that.
*Some Sim Card may require activation please refer to the description on the product page.